Posted in What's New
TWO NEW RELEASES, ONE AVAILABLE NOW. . .
–The story that wanted to be a full length radio play but ended up a mystery novel instead–  
S T A L K I N G   B U L L S

THE NEW PARKER ROBINSON MYSTERY      
 "Don't be impertinent to Age, Young Man.  It outranks you."
WHO IS PARKER ROBINSON?
Parker has a guardian aunt who think he's a brilliant college student but who doesn't know he is currently on probation for skipping a semester's worth of classes to go Surf Hawaii. He has a Polynesian girlfriend whose face could launch a thousand outrigger canoes.  He drives an antique 'bullet' Thunderbird that belonged to a late uncle.  He has a dog that will listen only to him.  He has another uncle, who happens to be the Boston Police Commissioner and who has offered Parker a summer internship at Police Headquarters provided he promise not involve himself directly in police business.  Parker agrees, but this is before the Isabella Stewart Gardner Art Museum suffers its second major break-in-and-art-heist and Parker realizes he must act to save his uncle's job.
What kind of mystery is STALKING BULLS?
Captain Underhill was a retired police captain; Parker Robinson is a dilettante college student with an interest in crime solving.  You could think of him as a brash young 'Underhill', except that would be misleading.  He is every bit as smart, but naturally, being considerably younger in years, he is not as wise as the venerated old captain, and therefore he comes off as a bit more foolhardy when it comes to the scrapes he gets into.  And he does manage to do that quite handily.
PRE-ORDERS WILL BE TAKEN SOON.  SHIPS IN THE NEW YEAR.
P.S.
BUT WAIT, THERE'S MORE:
"YOU MEAN WE GET TO LISTEN A NEW RADIO PLAY AFTER ALL?"
YES!  For our listeners who just won't be satisfied unless they have something new to listen to, we offer you our newest mystery:
'YOU CAN'T GO HOME AGAIN, GEORGE BAILEY or LOOK HOMEWARD ANGELS, SECOND CLASS'
How it came to be . . .
This year, 2016, happens to be the 70th anniversary of the release of the Frank Capra's film classic, 'It's a Wonderful Life'.  Those of you who are familiar with the movie and love it as much as we do, will definitely have fun listening to this one.
However, as far as 'fun' goes, listen to what Max, –the director of the play– is quoted as saying about what happened during the performance, " . . .  In our attempt to do something that would serve as a homage to'It's a Wonderful Life' , we wanted to do something that would be fun.  And it was fun.  But, of course, by that I mean for the audience, not necessarily for the director, –which was my role.  And not necessarily for the actors and stage personnel.  We were all of us aware that doing live radio theater is always fraught with risk.  There is always the possibility that something will go wrong and you have to be prepared to deal with it, off the cuff and on the fly . . .Of course, none of us imagined it could ever go quite as 'wrong' as it did . . . But it certainly did . . ."     
'You Can't Go Home Again, George Bailey' features an all-star Cape-Cod cast, including the voices of Peter Milan, Patience Martin, Robin Russell, Michael Mellor, Lucy Whittier, Neil McGarry and other favorites,  as well as original music by the redoubtable  Mark Birmingham.
ORDERS FOR 'GEORGE BAILEY' ARE NOW BEING TAKEN. (Please visit our store)  Ships December 14th
Season's Greetings!
Steven Thomas Oney
author/producer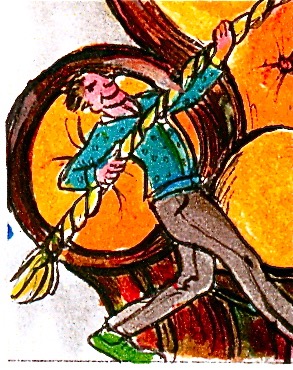 (Bull photos courtesy of the Cape Cod Museum of Art)