Posted in Liner Notes, What's New
'PLAYBACK'
NOTES ON THE PROGRAMS:
'PLAYBACK'
Recorded at:         HT Recording Studio, Dennis, Cape Cod
                                    Rosemead Studio, Los Angeles
Play's location:         Upper Cape, Cape Cod,
First broadcast:         ?
Cast:        
     Announcer . . . . . . . . . . . . . . Floyd Pratt
     Killer . . . . . . . . . . . . . . . Kevin Groppe
     Mrs. Lannette O'Donnel . . . . Annie Oney
     Police Chief . . . . . . . . . . . . Jeff Spencer
     Lieutenant Peter Warrington . . . Neil McGarry
     Cop #1 . . . . . . . . . . . . . . . . Bill Dame
     John Mansfield . . . . . . . . . . Ray Brown
     Ms. Michele Hilman . . . . . . Sherry Scudder (*)
     Miss Doreen Beckman . . . . . Lanie Davis
     Reporter #1 . . . . . . . . . . . . .Herb Lorenzen (*)
     Reporter #2 . . . . Martha Watson Lorenzen (*)
     Reporter #3 . . . . . . . . . . . .Cynthia Bracket (*)
Recording engineers. . . . . . . . . . John Todd, Mark Birmingham, Steve Oney and Scott Dickie
Music by . . . . . . . . . . . . . . . Mark Birmingham
(*) First appearance in a CCRMT program
Author's Notes and Recollections:
         Greetings patient listeners and Happy New Year to all.  It is about time I get back to writing these chronological Liner Notes before the shards of my crumbling memory get ground any finer.
Casting my mind back to this point in our evolving grass-roots theater, –this was around 1986—'The Buoy' was finished and put to bed and sales of, as well as Listener Feedback about, the Captain Underhill mysteries was starting to take off, people were enjoying them and our the fan base for the detective duo was expanding. It was finally beginning to dawn on me what great voices and acting abilities were contained in both Wally O'Hara and Dave Ellsworth. And what chemistry they showed when put together. I resolved to take advantage of this and concentrate on producing more 'Underhills' as soon as possible. (And, in fact, the next five episodes after 'Playback' were all Captain Underhills).
         However, I was faced with a dilemma: I had had an idea for another suspense thriller whose plot I felt would take advantage of radio's unique strength's when it came to presenting suspense. Our show 'The Caller on Line One' was also proving to be popular and we were also receiving listener feedback begging for another one like that. I realized that this new idea could be adapted to serve as sequel to 'Caller' by allowing the same psychopath to make a re-appearance on our radio stage.
The story concerns an un-hinged killer who tape-records his murders and then taunts the authorities by sending his gruesome recordings to the police, and, in effect, daring them to track him down.
Although I didn't want to put off plunging into more Underhills, I elected to do this one first, partly because I worried that if I waited and then it became several years before I got around to it, that I might, in growing older, have become too timid to tackle such gruesome subject matter, since, for the show to work, required that we realistically simulate three actual murders.
Perhaps to counterbalance the scenes of violence, I also developed it into a love story in which Peter Warrington, the local, Cape Cod detective (Neil McGarry) falls in love with Michele Hilman, (Sherry Scudder) the special FBI agent who is brought in to assist, because she happens to be an expert in analyzing recorded sounds, as well as the fact she was born with a unique physiological talent: extra sensitive hearing. (Sherry was already a good friend of Neil's. They had acted together, so it was easy for them to pretend to fall in love and have it be convincing.)    
Kevin Groppe returned to play the psychopath using the same persona he had used in 'Caller'. In the first murder he poses as a phony deliveryman. (A number of listeners liked the fact that his uniform was described as being of a 'muddly brown color'.)   Annie, being handy, was chosen (conscripted) to play the first victim, who answers her front door and then is attacked. We had to do four or five takes to kill her off just right, Annie being throttled each time. It was a real workout for both killer and victim.
The Second Murder we recorded at Lanie Davis's house in Sandwich, –about a half mile from the Sandwich Marina at the east end of the Cape Cod Canal. Lanie had agreed to be murdered off again, –much as she had been as the Talk Show Hostess in 'The Caller on Line One', only in that one, when we staged the killing and recorded it, although it sounds perfectly chilling when you listen to it, it was actually a hoot to produce and we were all laughing heartily throughout the recording of it, –Laine, Kevin, John Todd and myself— and it was all done in one take.
Whereas for 'Playback', Laine was called upon to be surprised by the Killer, who is already hiding in her house when she comes home from work. It took three full takes to get the whole sequence to come out right, and I can't say it was a frolic or a hoot this time. Actually it was a grim and gruesome thing and, when we were finished, it took a while for Laine and Kevin and myself to shake off the creepiness and recover our normal aplomb.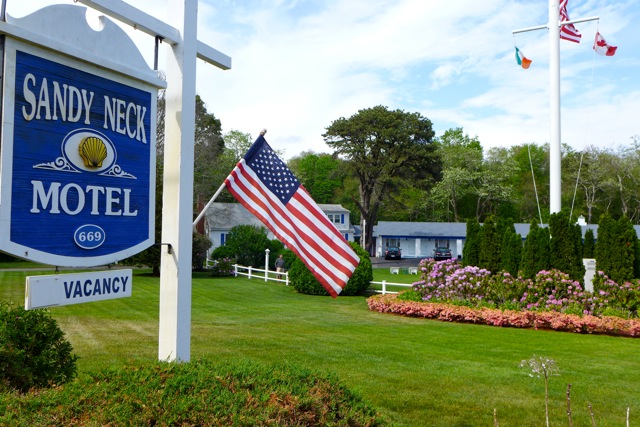 The Third Murder had to take place at a motel room and for that the owners of the Sandy Neck Motel in West Barnstable generously gave us permission to record in an unoccupied room
at the end of their row of units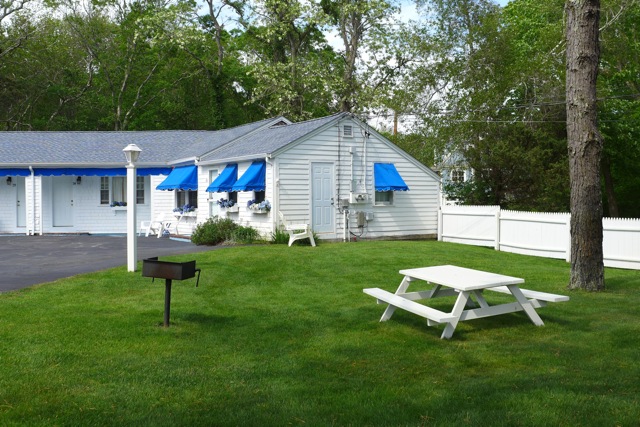 The Killer (Kevin) would be hiding in room of the 'sharp-eared' heroine when she is dropped off by the hero, (Neil McGarry), who then un-knowingly drives away. She is attacked after entering her room.
         It was a rough and violent scene and a noisy one, and we had to do upwards of seven takes to get the results we were looking for. I remember, after we recorded the first take and while I was listening to the playback to see if we had gotten it right, Kevin came in to tell me that there were real occupants in the adjoining room and he noticed them tentatively peek out of their window as he drove off.   Kevin suggested I should probably go over, knock and introduce myself and inform them of what we were up to.
         I knocked and they opened their door but kept the chain on. I explained what we were doing. They said, they hadn't known what to make of it, but decided it was none of their business so they just turned their TV up and ignored it. It was as violent as if a real murder had taken place and they hadn't even thought to call the front desk.  A sad example of how reluctant people are to get involved, even when a person's life might be at stake.
         The very elaborate sound effects of the show, –principally the FBI computer analysis of the murder tapes—were done by Mark and I out in L.A. at 'Producers I and II', right near Hollywood and Vine. The Synclavier was a very useful tool for that task. There is one scene in which the hero and the heroine are listening to and commenting on what they can hear in the background of the Murder Recordings and the hero, (Neil) says that he can make out 'the far-off sound of ocean waves borne on the wind'. I always cringe when I hear that line, it sounds so stilted and unnecessarily Shakespearean.
         There is also a restaurant, dinner scene, in which the hero and the heroine are sharing a tender moment when the hero tells her about a recording he made for his grandfather who was practicing to learn to be a Square-dance Caller. Back when I was about 14, my parents had bought my grandfather a tape recorder, and I helped him by making a recorded playlist of Square-dance Calls that I recorded from various library recordings. (Recorded crudely through the air and not through the line, they included extraneous neighborhood sounds mixed in). For the story's sake I added a poignant angle by having one of these extraneous sounds be the accidental recording of a screen door slamming when the old man's beloved wife, –then still-living– returned home from a shopping trip. (I think other writers will agree that this is how many stories are built: we authors pluck real events from our own lives and heighten then or sharpen them or garnish them to make them serve the demands of the plot.)  
         One last observation I will make about 'Playback' is that it I think it is the kind of story that is best suited for radio. Although the plotline of 'Playback' could be rendered into a novel, or a comic book, or a TV show or a film or a Stage Play, or any other format you wanted to bend it too, however, I believe in each case the results would be less gripping than the radio version. (The same observation applies to 'The Caller on Line One" and, in fact, we did a stage adaptation of that show at the Museum of Fine Arts on the Cape. It worked, the audiences liked it, but I still I don't think it came up to the original.)