Posted in
Captain Underhill Unmasks the Murderer (on CD)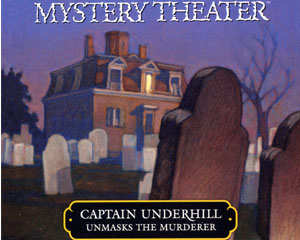 $30.00
RETIRED POLICE CAPTAIN Waverly Underhill and his sidekick Doctor Scofield, unmask the murderer in two spine-tingling mysteries. Heard on public radio, each is a contemporary tale in the classic tradition of The Shadow, with a full cast, original music and sound effects.
The Legacy of Euriah Pillar
A death in the family can be expensive. When an eccentric millionaire leaves a bizarre will, it can cost an arm – and a legacy.
The Case of the Indian Flashlights
Twenty years have passed, Euriah Pillar's strongbox has fallen into the wrong hands. Underhill and Scofield unearth clues that lead through an acient tunnel to a crypt.
FULLY DRAMATIZED; 2 HOURS ON 2 COMPACT DISCS
20 in stock