Posted in What's New
It's a foggy night in quarantine.  A perfect night! . . . for a mystery' (THE CALLER ON LINE ONE)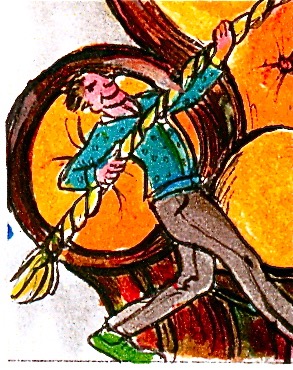 'The Caller on Line One'
Fellow fog-bound travelers in these fraught-prone times.  With the whole world seemingly going into quarantine and with economies now in free-fall, many people may find themselves stuck in their homes and with little money to buy entertainment.  Therefore, CCRMT for the foreseeable future is going to be providing daily free streaming of our mysteries and thrillers.
So, in an effort to whisk ourselves back to simpler times, we invite you to tune out the bad news and tune in to a free, stress-relieving radio mystery as you hand-dry dishes or churn butter or darn socks, or whatever it was that the simple folk used to do back during the Golden Age of Radio.
In the meantime, we will keep working on a new suspense thriller.  Keep your chins and your spirits up and your temperatures down.   Love, from the cast and crew of CCRMT
Synopsis:    Tanya Macklin is host of 'Talk Line'––the weekly, advice-on-the-air radio program.  Tonight, the problems of her listeners are about to take a back seat to one of her own.  A problem so large that it will transform her normally sane world into a nightmarish world of terror.  A real-time, suspense thriller in the tradition of 'Sorry Wrong Number'.  When first aired, it prompted a flood of frantic phone calls to the police and radio station and created a traffic jam outside a post office in Hartford.
CAPE COD RADIO MYSTERY THEATER:   In October of 1982, following the broadcast premier the month before of the grassroots radio theater's first Captain Underhill mystery, 'The Legacy of Euriah Pillar', the fledgling mystery writer (Steven Thomas Oney) had an inspiration for a different kind of mystery, this one a suspense thriller.  At that time on WOCB, there was a popular, radio call-in show hosted by local DJ, Michele Haines.  Oney's idea for a thriller was to simulate a similar call-in show, wherein listeners were invited to phone in with their personal problems. During the course of which, one particular caller would exhibit strange behavior and turn out to be an escapee from a mental institution.  Once the germ of the idea was hatched, the script fell into place quickly, so quickly in fact that the group was able to finish recording it just in time for 'The Caller on Line One' to receive its initial broadcast on Halloween night. The show features a swirling Rachmaninoff-like musical accompaniment by composer and concert pianist, Mark Birmingham, perfect for this kind of program!  It also features fake radio ads for Guns-R-Us and the Ooo-La-La Hair Salon.  A stage version of 'Caller' was later mounted in 1992 at the Cape Cod Museum of Art (formerly the Cape Museum of Fine Arts) but with a different surprise ending.  Laine Davis, who had just finished her role as Audrey Pillar, took on the role of the talk show hostess, Tanya Macklin, and Kevin Groppe, who had just finished up being Leander Pillar, stepped into the role of a lifetime, as Dennis Luckhurst.  The result was what Publisher's Weekly called 'audio mystery at its finest'.
THE CALLER ON LINE ONE:
First broadcast:  WOCB , Halloween, 1982
Announcer . . . . Floyd Pratt
Tanya Macklin . . . Laine Davis
Ron, the Engineer . . . John Todd
Caller #1 . . . . . . . . . Grace Biggers
High school caller . . . . . Patience Martin
Dennis Luckhurst . . . . . Kevin Groppe
Caller #3 . . . . . . . . . Dave Margulis
Caller #5  . . . . . . . . . Debby Oney
Mrs. Epstein . . . . . . . Lee Olive
Caller #7 . . . . . . . . . . Jean Todd
Produced/written/directed by STEVEN THOMAS ONEY, Engineering by JOHN TODD, Sound effects by SCOTT DICKIE, Original music by MARK BIRMINGHAM