Posted in What's New
It's a foggy night in quarantine.  A perfect night! . . . for a mystery' (EURIAH PILLAR)
'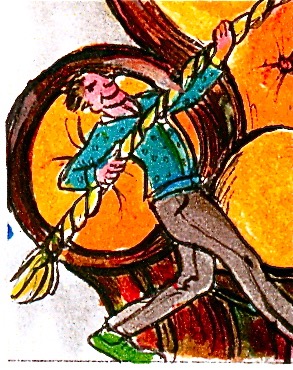 'THE LEGACY OF EURIAH PILLAR'
Fellow fog-bound travelers in these fraught-prone times.  With the whole world seemingly going into quarantine and with economies now in free-fall, many people may find themselves stuck in their homes and with little money to buy entertainment.  Therefore, CCRMT for the foreseeable future is going to be providing daily free streaming of our mysteries and thrillers.
So, in an effort to whisk ourselves back to simpler times, we invite you to tune out the bad news and tune in to a free, stress-relieving radio mystery as you hand-dry dishes or churn butter or darn socks, or whatever it was that the simple folk used to do back during the Golden Age of Radio.
In the meantime, we will keep working on a new suspense thriller.  Keep your chins and your spirits up and your temperatures down.   Love, from the cast and crew of CCRMT
      Captain Underhill, the retired, Cape Cod police captain, has a unique ability.  By merely reading the newspaper–and reading between lines–he is often able to solve cases the working police cannot.  Case in point: the strange bequest of Euriah Pillar, an eccentric millionaire who leaves behind a bizarre will, the terms of which set in motion a diabolical chain of events that lead to treachery, deceit, and threefold murder.
CAPE COD RADIO MYSTERY THEATER:   In September of 1982 on local radio station WOCB, a new radio series burst onto the scene, recorded on the Cape in a garage recording studio in Dennis, (HT Recording) operated by a local musician and music teacher (John Todd) and featuring a cast and crew, all of whom ––with one exception­­­­–– had absolutely no experience in radio whatsoever.  The script was supplied by local, would-be mystery writer (Steven Thomas Oney) who was inspired to try his hand at the medium after listening to a few incredibly good and many incredibly bad murder mysteries from the so-called Golden Age of Radio.  The principal character, Waverly Underhill, (read: Sherlock Holmes for Cape Cod) was played by aspiring actor (Dave Ellsworth)
whose claim to fame was occasional appearances on the nationally televised soap opera, All My Children.  His sidekick, Dr. Scofield, (Wally O'Hara) ––the only person who did have radio experience–– was a former summer stock actor who went on to become the principal news announcer on Boston's WEEI and later over WOCB on the Cape.  Musician friend of John Todd's, (Scott Dickie) showed up and volunteered to do sound effects, while composer, concert pianist and would-be film scorer (Mark Birmingham) agreed to provide the music.
Thus, was born a new radio mystery series and a popular detective duo that would go on to capture the hearts of listeners and inspire fierce loyalty among legions of radio mystery fans.
THE LEGACY OF EURIAH PILLAR:
        First broadcast WOCB September 1982
     Announcer . . . . . . . . . . . . .  Floyd Pratt
    Captain Waverly Underhill . . . Dave Ellsworth
    Doctor Alexander Scofield . . . . . Wally O'Hara
    Leander Pillar . . . . . . . . . . . . .  Kevin Groppe
    Audrey Pillar . . . . . . . . . . . . .  Laine Davis
    Simon Pillar . . . . . . . . . . . . . . Robert Mazzette
    Horatio Salazar, Esquire . . . . Sean Herlihy
Waitress . . . . . . . . . . .    Charlene Goudrealt
 Produced/written/directed by STEVEN THOMAS ONEY, Engineering by JOHN TODD, Sound effects by SCOTT DICKIE, Original music by MARK BIRMINGHAM